Safeguards
Cyber security safeguards include the policies, procedures, requirements, and practices that are necessary for maintaining a secure environment for the storage and dissemination of information.
Learn more about Georgia Tech's cyber security unit and available resources.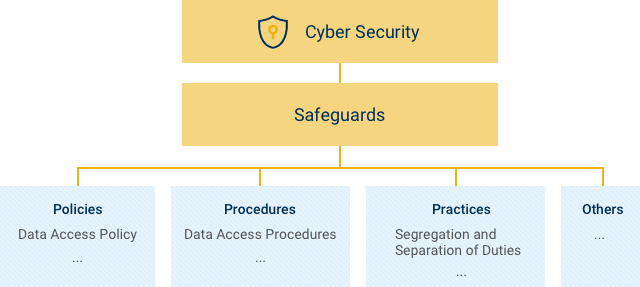 Securing Data Access
The Georgia Tech Data Access Policy provides a structured and consistent process to obtain necessary data access for conducting Georgia Tech operations (including administration, research, and instruction), defining the relevant mechanisms for delegating authority to accommodate this process at the unit level while adhering to segregation of duties and other best practices, as well as defining data classification and related safeguards.
View the full Data Access Policy in the Georgia Tech Policy Library.
Roles and Responsibilities for Data Access
The Georgia Tech Data Access Policy defines the roles and responsibilities for those responsible for data access.
Data Access Procedures
Data Access procedures are determined by the Data Steward, implemented and managed through the Data Coordinator, and executed through the Data Administrator.
Separation of Duties
The Institute must ensure that its organizational structure, job duties, and business processes include an adequate system of separation of duties (SOD). Separation of duties is fundamental to reducing the risk of loss of confidentiality, integrity, and availability of information. To accomplish SOD, duties are divided among different individuals to reduce the risk of error or inappropriate action. In general, responsibility for related transactions should be divided among employees so that one employee's work serves as a check on the work of other employees.