EDM Mission
The environment in higher education is complex, turbulent, and demanding. These challenges are manifested in a broad range of internal and external pressures on leaders to make timely and effective decisions. Data, transformed into meaningful information, is at the foundation of making timely, effective and informed decisions.
The goals of EDM include creating a strategy and roadmap that features recommendations around our current state and best practices for developing and maturing a robust data management and enterprise intelligence capability that addresses both functional and technical areas. This is Georgia Tech's next step in its pursuit of institutional effectiveness.
Leadership
Enterprise Data Management is a unit within the Finance and Planning organization of Administration and Finance. EDM products, such as the Enterprise Data Warehouse, will support many initiatives across campus such as the Enterprise Transformation.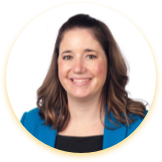 Katherine M Crawford
Senior Director of Enterprise Data Management
Email: katie.crawford@edm.gatech.edu